22' SUMMER
GATORADE COLLECTION
Trevor Lawrence, Paige Bueckers,
Sydney McLaughlin, and Fernando Tatìs Jr.
STRATEGY, PACKAGE DESIGN, ILLUSTRATION
Challenge:
Collaborate with four sponsored athletes on their own Gatorade Gx bottle design
Connect with each athlete to bring to light personal stories from their formative years
Tie it all back to a broader Gatorade campaign of highlighting youthful joy in sports
Solution:
This epic collection of athlete collaborations was as fun to design as it was to connect with each individual. This work brought me to four different locations across two countries, as the Gx team and I met with each athlete to share early visual concepts based on stories from their formative years. Our goal was to highlight each individual athlete while also tying back to the broader Gatorarde campaign of youthful joy and love that exists in sports, living together as a cohesive group.
One of the best experiences was extracting personal stories from each of these outstanding athletes that are so relatable to young athletes -- like driving for hours on the weekends for tournaments with their parents, like Trevor Lawrence, or how love for a sport began with pick up games in the neighborhood, like Tatis Jr. and playing batilla in the Dominican Republic.

It was a joy and an honor to visually tell these stories while maintaining a tie to broader business objectives. It was an absolute blast designing and co-facilitating the workshops for each athlete, leading the conceptual design for each athlete's bottle, and managing my team of designers and content strategists. Each athlete was a dream to work with and the stories that unfolded led to some impactful design that was truly incredible to be a part of.


---
TREVOR
LAWRENCE
QUARTERBACK, JACKSONVILLE JAGUARS


---
SYDNEY
McLAUGHLIN
OLYMPIC GOLD MEDALIST & WORLD RECORD HOLDER, USA TRACK & FIELD


---
PAIGE
BUECKERS
POINT GUARD, BIG EAST CONFERENCE


---
FERNANDO
TATIS JR.
SHORTSTOP, SAN DIEGO PADRES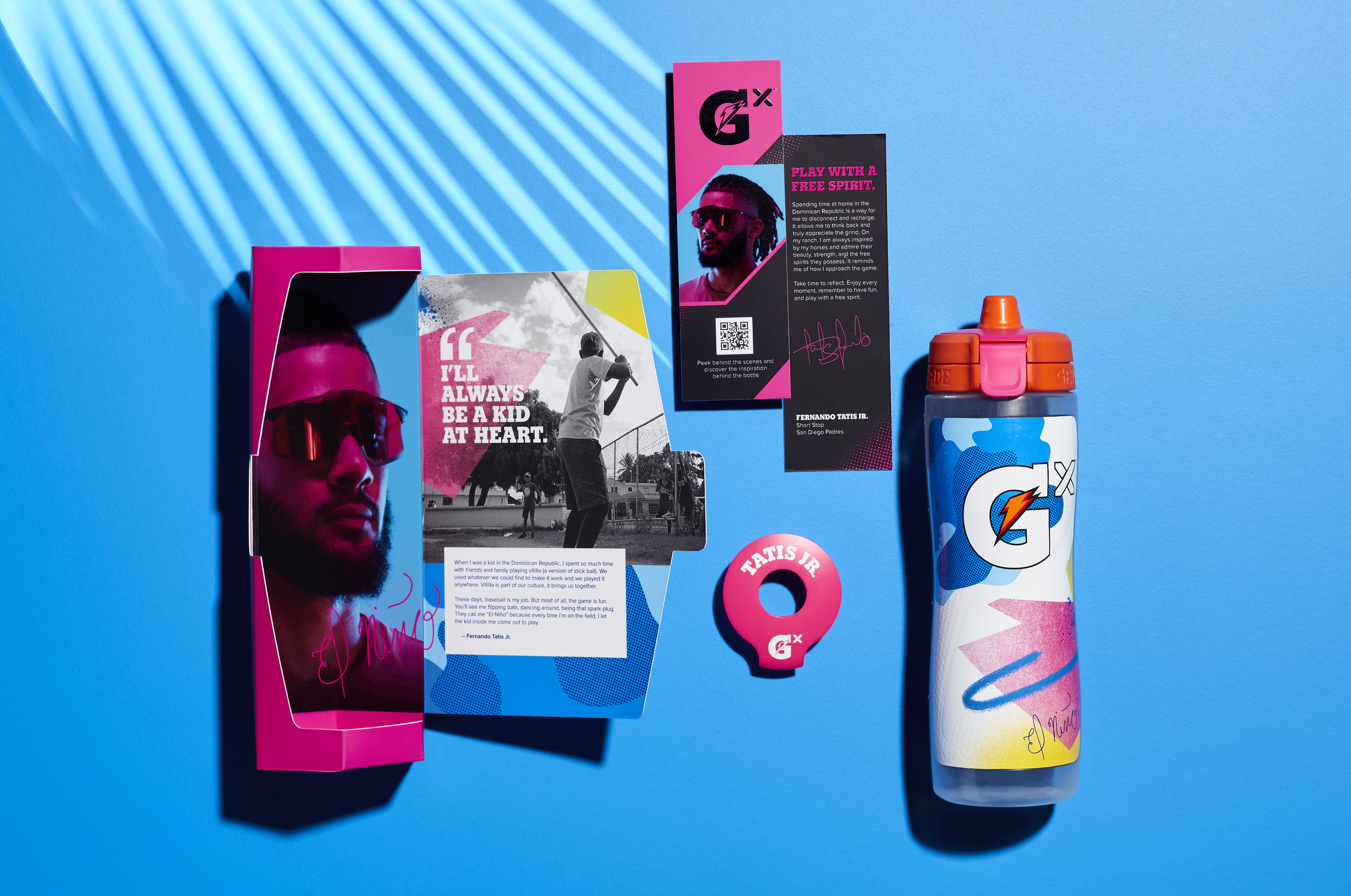 ---
︎︎︎︎︎︎︎︎︎